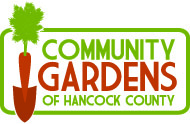 Welcome to the Community Gardens of Hancock County!
The mission of the Community Gardens of Hancock County is to educate and equip individuals to be food secure and to work in harmony with their neighbor.
As our community takes on the issue of hunger, United Way is pleased to be involved in this collaborative effort. 
Community garden benefits include encouraging health and exercise, providing opportunities for intergenerational and cross-cultural connections, reducing crime rates, beautifying neighborhoods, producing nutritious food, supplementing food budgets, and also creates entrepreneurial and income opportunities.
The Community Gardens of Hancock County began as a collaborative effort of the United Way of Hancock County, the MENTOR Initiative, The Hancock County Sustainability Coalition, The Ohio State University Extension, Master Gardener Volunteers of Hancock County, The Community Foundation and City of Findlay officials. The Community Garden of Hancock County is located at The Family Center, 1800 N. Blanchard St.
Apply for Your Own Plot
Applications are closed for 2022 Community Gardens Plots.
For information about future gardening opportunities, contact Taylor Coote at 419-423-1432 or taylor.coote@uwhancock.org and be sure to like Community Gardens of Hancock County on Facebook.